Montavue MTZ4040 4MP Pan-Tilt-Zoom (PTZ) Speed Dome Camera with 2K HD Resolution, 4x Zoom, and Low Light Color Optics
From: $196.95
Indoor/Outdoor 4MP Pan-Tilt-Zoom (PTZ) Camera with 4x Optical Zoom
Add a 100ft Cat5e Cable for $24.95
Description
Indoor/Outdoor 4MP Pan-Tilt-Zoom (PTZ) Camera with 4x Optical Zoom
The Montavue 4 megapixel MTZ4040 4x zoom IP Pan-tilt-zoom (PTZ) security camera is the industry leading 4MP HD IP PTZ camera on the market with low light color optics. Not all PTZ cameras are created equal. Our PTZ camera is made with quality components and features to give you clear and crisp images day and night that will last for years to come. We make it easy to view and control the PTZ from anywhere with our free mobile viewing app, MontavueGO, which is compatible with Mac, PC, Android and Apple. These cameras can stand alone, record to an FTP, your local PC, Montavue Network Video Recorder (NVR), or to an ONVIF compliant recorder. The Montavue MTZ4040 PTZ camera features impressive 0º-355º panning, 0°-90° tilt, Color Night Optics with an extreme low-light sensor that records color images with only .05 lux, 30FPS recording at 4MP 2K HD resolution, viewing angle of 30° – 112.5°, impressive 4x optical zoom and 16x digital zoom, smart motion alerts, email alerts and snapshots, IVS features and a secure SSL/HTTPS connection.
4 Megapixel Pan-Tilt-Zoom PTZ Camera with 4x Optical Zoom
Large areas such as parking lots, warehouses, lobbies, and more can be difficult to monitor closely, and may take 20 cameras to accomplish the same views as this one 4MP 4x PTZ camera. The Montavue MTZ4040 is equipped with an incredible 2K resolution lens, and can pan 0º-355º, and tilt from -0º-90º which enables you to cover incredible distances and areas with just a single PTZ camera. The speeds match the features with 0.1-100º per second panning, and 0.1º-60º per second tilt.Text
Color imaging in low light conditions & IR night vision
Our MTZ4040 PTZ camera has the best night vision on the market with our innovative Low Light Color Optics feature that continues to give you full-color video in low-light conditions. The low-light conditions piece is critical, as there is no such thing as night vision that is color, don't be fooled by other marketing materials. Our Color Night Optics only needs .05 lux(measurement of light) without IR to produce a color image, our competition needs .1 lux without IR to produce that same color image, almost 20x as much light.
Real-Time 30 Frames-per-Second (FPS) Recording at 4MP 2K Resolution

The Montavue MTZ4040 pan-tilt-zoom PTZ camera records real-time at 30FPS in 4MP 2K resolution. What does that mean? It means that when an object is moving at normal speeds the camera is recording in real-time so it won't be blurry. Compare that to the competition's 2MP and 4MP PTZ cameras. For most of the competition's 4MP cameras, especially ones sold at retailers and warehouse clubs, they only record at 15-20FPS. That is half the speed of our 4MP cameras, and only one of the major differences between our cameras and the competition's.
Montavue MTZ4040 network PTZ camera records at 30FPS in 4MP 2K Resolution
30FPS is real-time to reduce blurry images with movement
Most of the competition's cameras record at 15-20FPS in 4MP resolution, creating blurry images with movement
Superior Clarity and Resolution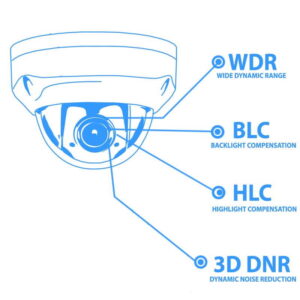 Montavue PTZ cameras are equipped with the best components made on the market to produce the clearest image possible. We strive to produce quality cameras that will give each one of our customers the best image at a very competitive price. Every Montavue PTZ camera is equipped with industry-leading True Wide Dynamic Range (WDR), Backlight Compensation (BLC), Highlight Compensation (HLC), and 3D Dynamic Noise Reduction technologies (3D DNR). WDR, BLC, and HLC all fix lighting issues with producing a quality image by minimizing the effects of bright backgrounds and foregrounds and lights in between. The goal is to produce an image that looks similar to if you were there in person. 3D DNR is an important feature for night vision and low light video. It reduces the fuzzy hazy images that are produced from noise transmitted from the camera, which creates a clearer image, cuts down on storage, and reduces false motion alerts.
Intelligent Video Surveillance (IVS)

The MTZ4040 IP PTZ camera is equipped with our Intelligent Video Surveillance features. These include tripwire, face detection, intrusion, missing object, and abandoned object. Those IVS features allow you to monitor the area you are covering very precisely and efficiently, so you are only alerted when you want to be according to your settings. You can know exactly when someone or object crosses an invisible line, leaves or enters a space, and more.
Tripwire: Draw a line by the door, when someone crosses that line your camera will notify you with a push notification to your mobile device and record that scene.
Abandoned Missing Object: Great for lobbies, airports, banks, etc. This is used by designating a detection zone and setting a time, if an object is put in that area and it surpasses the time it is considered abandoned and will activate record, alarm and send snapshot.
Object Missing: This is great for valuables. You designate an object, if that object goes missing it will activate record, alarm and send a snapshot.
Face Detection: This feature detects any human face appearing in the video, captures the face, and sends it to the NVR for processing and analysis. From there it can activate snapshot, record, and alarm.
Simple PoE Installation – Plug and Play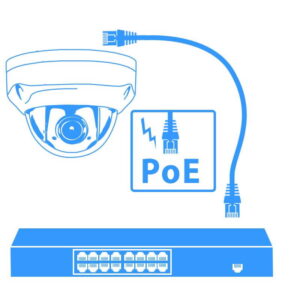 When it comes to simplicity, Montavue has made it so simple that you just need to plug the included Cat5e ethernet cable into a compatible NVR, and the other end into the camera, wait a minute or two and the camera will be auto recognized and pop up on your screen. The PoE simplicity is perfect, as both power and video are transferred through the same cable. It also gives you flexibility with installation. You can run one single cable from the NVR up to 300ft, and then if you need to go further you can hook a PoE switch up and you can run it an additional 300ft for a total of 600ft. Each one of our Montavue cameras come with a 100ft cat5e cable.
With IP cameras the fun doesn't stop there. You can bring in cameras to your NVR that are plugged in from around the world as long as they have internet access. This gives you limitless capability, and with the ONVIF compatibility of these cameras (all Montavue cameras are ONVIF compatible which means), you can use them on ONVIF compatible software and recorders. For plug and play compatibility we recommend Montavue network video recorders (NVR's).
Compatible with MontavueGO – Our free mobile viewing app for PC/Mac and Android/Apple
With MontavueGO you can access and control your cameras and surveillance system from around the world with the power of internet and by using our incredibly easy to use application on your mobile device or computer. When using your mobile device simply download the MontavueGO app and scan the QR code on your NVR in order to sync your system to your phone. Now you can view and control your cameras from anywhere. Live viewing and past recordings are only the start, there are an abundant amount of features, one that we love is push notifications. Set the camera to motion detect and when something moves in the area you designate the application will send a push notification to your phone.
Advanced Motion Detection

With each Montavue network PTZ camera you have the ability to create very distinct motion detection zones. This gives you complete control over the alerts you receive on your phone, or record to your NVR. This advanced feature from Montavue allows you to only view and record the things that matter most. Each individual zone has its own sensitivity levels and thresholds. Gives you the power to fine-tune the zones to your exact liking and minimize false notifications from pets.
Industry Leading H.265 Video Compression for Less Storage and Bandwidth

The MTZ4040 PTZ camera is equipped with top of the line H.265+ video compression. Compression is what helps minimize the storage needed to store your video and also reduces the bandwidth needed to send video through the network and to your mobile device. With H.265+ compression, you can save up to 50% of storage compared to traditional H.264 compression. Or you can save up to 2x as much video when compared to H.264 with the same amount of storage used. Additionally, it increases the speed at which video transmits through the network and to your mobile device as they are smaller files.
H.265 compression reduces the amount of storage by 50% compared to traditional H.264 compression
H.265 compression reduces the file size which in turn increases the speed at which you receive video on your mobile devices and takes up less bandwidth on your network
Wide Field of View

When it comes to monitoring large areas, the Montavue MTZ4040 pan tilt zoom camera has you covered with a lens field of view ranging from 97° ~ 32° with a 4x optical zoom. On top of that, when you have this Montavue pan-tilt-zoom camera, you can monitor a full area from 0º-355º with panning. One thing to check to make sure you are comparing apples to apples between cameras, is the difference between a horizontal and diagonal field of view. Make sure that both are horizontal or diagonal.
Indoor/Outdoor PTZ Camera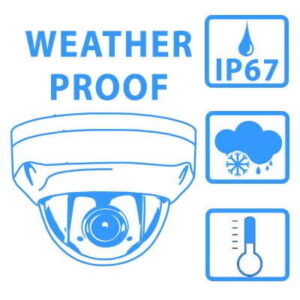 These Montavue PTZ cameras are made of a heavy-duty aluminum housing with all weatherproof seals. This camera comes with an impressive IP66 ingress protection rating. Not only can it withstand the elements, it can also withstand high and low temps. This camera can operate from -22° F ~ 140° F (-30° C ~ 60° C). This is a rugged camera for all your applications.
Full US Support and Industry Leading 2 Year Warranty on all Montavue Products

Like we said, not all surveillance equipment is created equal, and our standard 2 year warranty is a testament to that. We will stand behind our equipment for 2 years. We are confident in our products performing for years to come, and want you to have peace of mind in your Montavue surveillance system.
Full 60-Day Money Back Guarantee Return Policy
At Montavue, we believe that when you buy one of our products you are going to love it, and if you have any issues with it you will bring it to our attention. We will walk you through it with our US-based tech support, or we will send you a replacement device if something is wrong with the item. We are confident products we sell are going to exceed your expectations, but in the event you still want to return the item, you have 60 days from your purchase date to send it back for a full refund.
Payment & Security
Your payment information is processed securely. We do not store credit card details nor have access to your credit card information.
Additional information
| | |
| --- | --- |
| 100ft Cat5e Cable | 100ft Cat5e Cable, No Cable |
Monitoring
MIY - Monitor It Yourself allows you to have control of your home and all the bells and whistles that come with the Alarm.com app without a central monitoring station. During an alarm event, a MIY system will only push a text message to your cell phone. This type of monitoring is great for renters, house flippers and anyone who wants home automation and cloud video without a complete security system.
Professional monitoring takes the weight off of your shoulders by having a central station monitor your security system. During an alarm event the central station will be notified and they will contact you and the proper authority about the alarm event. Professional monitoring offers the quickest response to any situation in your home. This type of monitoring is great for family's, elderly and those who want to know that someone is there to watch over their home. Professional monitoring also includes a homeowners insurance certificate and limited lifetime warranty. FOLLOW THIS LINK FOR MONITORING CONTRACT AGREEMENT / TERMS OF SERVICE.